Monthly Archives:
December 2016
Episode 8 is live! Christmas projects are piling up all around us and we are knitting as fast as we can. We share our update on our Dad and talk about our favorite Christmas Eve traditions. And apparently I crunch on ice while Deborah is talking (what's up with that Em?). Best of all, we announce the winner of our awesome giveaway!
Show Notes
Where to Find Us
You can find Queen Deborah on Instagram as @indigochickendolls, on Ravelry as purplepinwheel, and on Etsy as IndigoChicken. We also have a Ravelry group for Meanwhile, At the Castle. 
Queen Emily can be found on Instagram as @saltcityknits, and on Ravelry as egclawson.
Yarns and patterns mentioned
Summer Slice Sock Pattern by Cassandra Dominick
Madelinetosh Twist Light in Dustweaver
Primavera Capelet by Paulina Popiolek
Madelinetosh Tosh Merino Light in Baltic
Greenwood Fiberworks in Sublime
Knit Picks Felici in Bubble Gum
Snowball Buddies by Susan Claudino
Little Cotton Rabbits by Julie Williams
Burlap and Blossoms pattern -Rudolph
Everyday Shawl pattern by Jenny Faifel
Hermione's Everyday Socks by Erica Lueder
#cozywithtastythings
Hedgehog Fiber's in Envy and Banana Legs
And our Giveaway goes to Frenchyknits on Instagram. We are so excited to send you this awesome package! It includes :
Amanda Makes Yarn in the beautiful Meanwhile, At the Castle colorway!
Project Bag and Progress Keeper by Deborah at Indigo Chicken
502 total views, 0 views today






by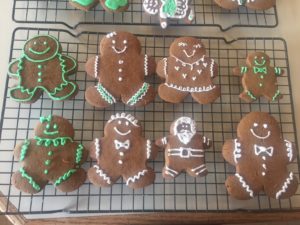 I LOVE gingerbread cookies. The smell fills up your house long before the delicious cookies are done and ready to eat. And I find that I like mine to be sturdy but still soft, and have a little bit of kick to them. This recipe has floated around my family for long enough that I don't know where it came from, but I've adjusted it so many times that I feel okay to call it my own.
Bake up some festive goodies and enjoy decorating them with your children.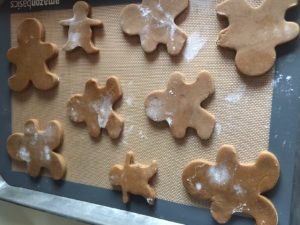 Gingerbread Cookies
1/2 cup butter, soft
1/4 cup shortening
1 cup dark brown sugar
1 egg
1/2 teaspoon salt
4 tablespoons molasses
Combine the above ingredients, mixing thoroughly and set aside.
2 1/2 cup flour
2 teaspoons baking soda
1/2 teaspoon ground cloves
1 teaspoon cinnamon
1 teaspoon ground ginger
1/2 teaspoon cayenne (or less, if you don't like it spicy)
Combine dry ingredients then add to the wet mixture above. Mix until it forms into a ball. Wrap tightly in plastic wrap and refrigerate overnight.
Preheat oven to 350 degrees. Let dough rest on the counter for about 10 minutes before rolling out on a floured surface. Roll to 1/4″ thickness and cut with cookie cutters. Place 1/2″ apart on a silicone mat and bake for 12-14 minutes. Let the cookies cool and firm up on the pan for a few minutes before transferring to a cooling rack.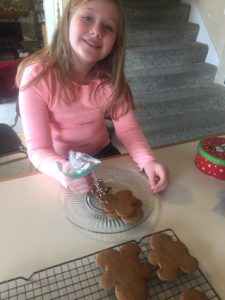 When cookies are completely cool, decorate with royal icing. I like the recipe for icing with meringue powder found here.
I haven't tried this recipe for making a gingerbread house but it has been nice and sturdy for large gingerbread men so I'd be interested to know if it works. If you try it out, please share your results!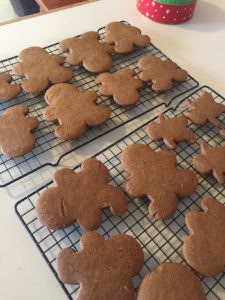 393 total views, no views today






by