Episode 22: Socktober!
Contact Us
You can find Queen Deborah on Ravelry as IndigoChicken, on Instagram as IndigoChickenDolls, and on Etsy as Indigo Chicken or email her by clicking here.  Queen Emily can be found on Ravelry as SaltCityKnits (new user name!) and on Instagram as SaltCityKnits. Please join us on Ravelry in our group for more discussion, photo sharing, and prizes!
Show Notes
Queen Deborah's Projects
Candy Floss socks (for the ribbing) by Emily Clawson
Neeley's Knits Supersock in Thing one and Thing Two colorway
French Meringue Socks by Vanilla Wool
Yarning Apart in Dust Light colorway
The Wizarding World of Yarn in Wingardium Leviosa colorway
Mary Jane's Tearoom Bears
Cascade ECO duo in Vanilla colorway
Queen Emily's Projects
Malabrigo Sock in Light of Love colorway
Knit Picks Felici in Kaleidescope colorway
Chasing Rabbits Fiber Co. in Honey and Indigo colorways
Wizarding World of Yarn in Transfiguration colorway
Contrasting heels and toes in Malabrigo Sock in Impressionist Sky colorway
Mini's set by Blissful Knits
Self-striping sock yarn from Scrumptious Purls
Public Service Announcement
In case you missed the segment in our podcast, here is a helpful info-graphic to assist you as you ask the age-old question: Am I wearing pants?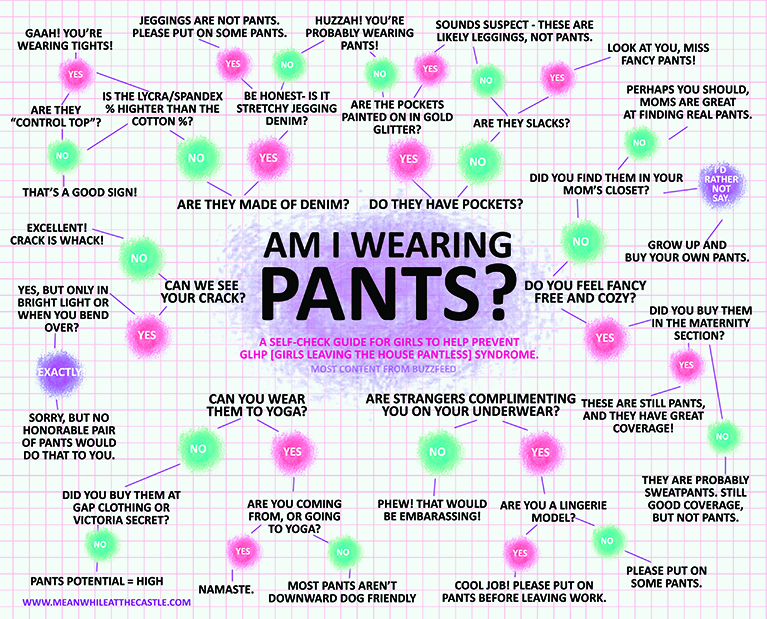 Giveaway Winner!
We have an adorable progress keeper from Little Bitty Delights to giveaway. And our winner is DebraMason. Huzza!
Other Mentions
Stretchy Cast On for Socks by Roxanne Richardson
167 total views, 0 views today






by