Grandma's Peppernuts
Our Grandma Childs made these spicy little cookies every Christmas and shared them with all her children. They are different than traditional Peppernuts (or Pfeffernuss) as they do not have any anise or pepper in the recipe. I guess she never liked the traditional flavors and neither did any of her children or grandchildren. We love these poppable sweets just as they are in all their ginger-y, molasses-y goodness!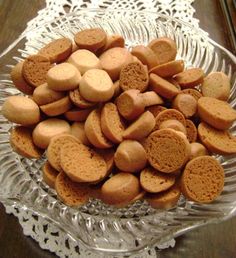 Peppernuts
From the kitchen of Gay Rosenberg Childs
Ingredients:
3/4 cups sugar
1 cup dark molasses
1 cup shortening
1/2 cup water
1 teaspoon baking soda
1 tablespoon ground ginger
1 tablespoon ground cinnamon
1 teaspoon ground cloves
6 cups flour
Directions:
Cream sugar, molasses, shortening, and water together. Sift together all dry ingredients and mix until incorporated  and forming a stiff dough. Wrap in plastic wrap and chill for at least four hours. Roll chilled dough into snakes about 1/2 inch in diameter and cut 1/2 inch slices. Scatter on ungreased baking tray. Bake for 10 – 12 minutes at 350 degrees farenheit. Allow to cool on pan. Store in airtight container  and snack away! Makes about eleventy-billion tiny cookies.
148 total views, 0 views today






by