I had a question in the Raverly group that I thought I'd also answer here. It may be helpful to someone else.
M wrote:
Hello,
Have been watching your podcast noticing you mention often using the Vanilla Sock Pattern. Is this your pattern or can I purchase on Ravelry? I have searched but nothing that says only Vanilla Sock pattern. I probably missed it.

Love your podcast. So nice and joyful.
Thank you.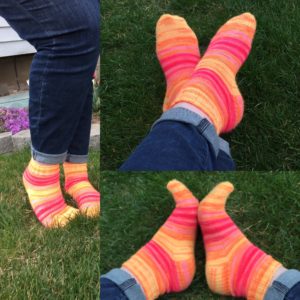 Here is my reply:
That is a great question! Usually "vanilla sock" is a term used to describe a plain, stockinette sock. It's kind of misleading because there is no one right way to knit a vanilla sock. But it doesn't involve any textured, lace, or cabled stitches in the leg and foot of the sock.
I'm hapy to share my "recipe" with you. There are myriad tutorials on youtube for any of the terms that you may not understand. I've tried to write this down in a way that would be adjustable for a lower stitch count. I know that 64 stitches is a very common stitch count for women. I knit with fingering weight yarn on a 2.25 mm needle.
Cuff:
I cast on 68 stitches and join to work in the round (usually on magic loop). I work 20-24 rounds of rib, either 2×2 or 1×1 depending on my mood.
Leg:
I usually prefer a shorter sock and so usually keep the leg to about 30-40 rounds. This is when you would insert your heel. There are many different heel options but my standby is a heel flap, turn, and gusset.
Here is my version.
Heel flap:
Work the following pattern only on half of your stitches. For me that is 34 stitches.
RS: k3, sl1pw,k1, repeat from to last three stitches, k3.
WS: k3, p to 3 stitches before end of row,k3
Repeat those two rows for a total of 18 repeats. This means you have 18 garter ridges along your edges.
Heel Turn:
We will now be using short rows to create a heel turn.
Row 1: k to middle stitch (for me this is 17 stitches), k2 more, k2tog,k1 turn.
Row 2: slip 1 st to right needle, k4, p2tog,p1 turn.
Row 3: Slip first stitch, knit to last stitch before gap, k2tog (you'll knitting the stitches on either side of the gap together), k1 turn.
Row4: sl 1 stitch, purl to last stitch before gap, close gap with p2tog, p1 turn.
Repeat row 3 and 4 until you have worked all your stitches. In my size I'll now have 20 stitches on my needle.
Heel Gusset:
We will now be picking up stitches along our heel flap edges, and decreasing gradually to form the gusset.
Round 1: with heel flap right side facing you, pick up and knit 18 stitches along the garter edges, pick up one more stitch to close any hole,pm to mark beginning of front of foot, knit across front of leg stitches (these are the stitches that have been on hold while we've been working on our heel), pm to mark ending of front of foot, pick up one stitch at the base of the heel flap, pick up and knit 18 stitches along right side of heel flap, knit to center of heel turn stitches, pm. This marker is your beginning of round.
Round 2: knit to three stitches before marker, k2tog, k1, k to next marker, k1, ssk, k to marker.
Round 3: knit
Repeat rounds 2 and 3 until you are back to your original stitch count.
Foot:
Continue in stockinette until you are about 1.5 inches shy of the total desired foot length.
Toe:
Round 1: k1, ssk, knit to 3 stitches before end of front of foot, k2tog, k1,pm, k1, ssk, knit to 3 stitches before end of round, k2tog, k1, pm.
Round 2: knit.
Repeat rounds 1 and 2 until you have half of the stitches on your needles. for me that is 16 stitches for the front of the foot and 16 stitches for the back, for a total of 34 stitches.
Now repeat round 1 only until you have half the stitches again. For me that is 8 front and 8 back stitches.
Graft the toe closed with kitchner stitch.
A note on markers: I actually rarely use markers in my socks but instead set up my magic loop so that the loops in my cord (or the ends of my needles with DPNs) deliniate the place where markers would be.
I hope that is helpful for you! If you have any other questions, let me know!
Queen Emily
556 total views, 0 views today






by