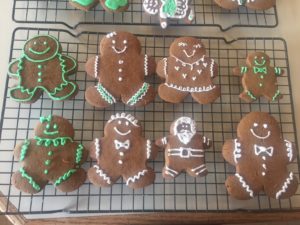 I LOVE gingerbread cookies. The smell fills up your house long before the delicious cookies are done and ready to eat. And I find that I like mine to be sturdy but still soft, and have a little bit of kick to them. This recipe has floated around my family for long enough that I don't know where it came from, but I've adjusted it so many times that I feel okay to call it my own.
Bake up some festive goodies and enjoy decorating them with your children.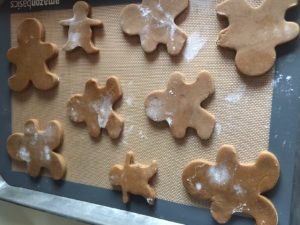 Gingerbread Cookies
1/2 cup butter, soft
1/4 cup shortening
1 cup dark brown sugar
1 egg
1/2 teaspoon salt
4 tablespoons molasses
Combine the above ingredients, mixing thoroughly and set aside.
2 1/2 cup flour
2 teaspoons baking soda
1/2 teaspoon ground cloves
1 teaspoon cinnamon
1 teaspoon ground ginger
1/2 teaspoon cayenne (or less, if you don't like it spicy)
Combine dry ingredients then add to the wet mixture above. Mix until it forms into a ball. Wrap tightly in plastic wrap and refrigerate overnight.
Preheat oven to 350 degrees. Let dough rest on the counter for about 10 minutes before rolling out on a floured surface. Roll to 1/4″ thickness and cut with cookie cutters. Place 1/2″ apart on a silicone mat and bake for 12-14 minutes. Let the cookies cool and firm up on the pan for a few minutes before transferring to a cooling rack.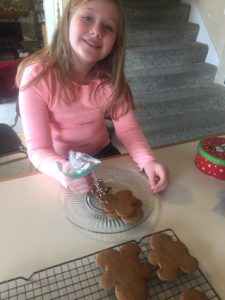 When cookies are completely cool, decorate with royal icing. I like the recipe for icing with meringue powder found here.
I haven't tried this recipe for making a gingerbread house but it has been nice and sturdy for large gingerbread men so I'd be interested to know if it works. If you try it out, please share your results!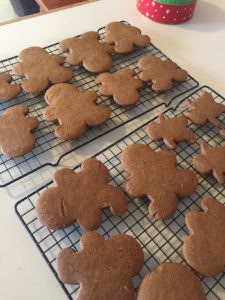 393 total views, no views today






by