Episode 20: Our One-Year Anniversary!
We are back after a long month and a half. We have a nice long chat about all our projects and delightful things. We announce several giveaways for our Dye-along as well as our one year anniversary!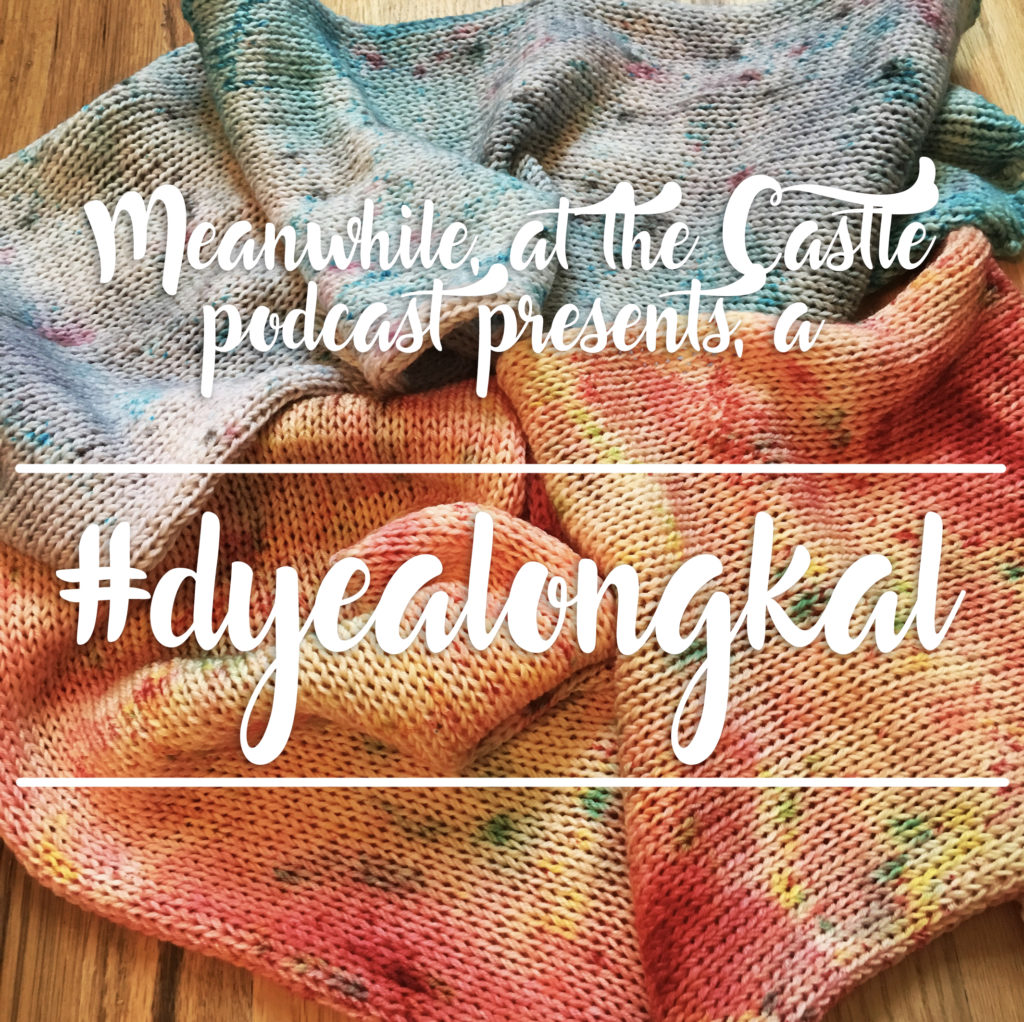 Come join our Dye-Along!
Deborah and Emily are both having so much fun with dyeing yarn. It can seem like an intimidating process but it really doesn't need to be. We would love to have you experiement with dyeing yarn and share your photos! We've put a thread in the Ravelry group for chatter on the process and draw prizes periodically from that thread. There are also links to a few tutorials we've enjoyed as we've been embarking in this process. You can share your photos on Instagram with the hashtag #dyealongkal.
Contact Us
You can find Queen Deborah on Ravelry as IndigoChicken, on Instagram as IndigoChickenDolls, and on Etsy as Indigo Chicken. Queen Emily can be found on Ravelry as SaltCityKnits (new user name!) and on Instagram as SaltCityKnits. Please join us on Ravelry in our group for more discussion, photo sharing, and prizes!
Show Notes
Queen Deborah's Projects
Sweet Summer Nights Shawl by Emily Clawson (pattern not currently available)
Amanda Makes Yarn in Meanwhile, At the Castle colorway
Malabrigo Sock in Aguas colorway
Lartha Socks (heel pattern) by Lara Smoot Designs
Sheepy Fibers, etc. in Lucky colorway
Footie Socks by Miriam L Felton
Plymouth Yarn Happy Feet 100 Splash in Lipstick colorway
Good Vibes Shawl by Nadia Cretin-Lechenne
Beach Bum Yarn in Hula Girl
Knit Picks Hawthorne Fingering in Parkrose colorway
Luna's puppy afgahn – Granny Stripe Blanket
Knit picks Felici in Bubble Colorway
Candy Floss socks (for the ribbing) by Emily Clawson
AJHC Wools in Vintage Funk colorway
Pinwheel Scrap Blanket by Knitting Expat Designs
Check out #pinnieparade on Instagram for some awesome pincushions!
Queen Emily's Projects
Sweet Summer Night's Shawl in her own yarns.
Dragon Hoard Yarn in A Very Merry Unbirthday colorway
Randrops by Tin Can Knits
Ella Rae Lace Merino (unlabeled colorway)
As yet unnamed aran weight squishy shawl of coziness
Malabrigo Worsted in Molly colorway
Window to My Soul by Joji Locatelli
Cascade Yarns Heritage Silk in Aqua Foam
Monkey Socks (no purl version – just knit wherever it says purl)
Malabrigo Sock in Idiecita colorway
Malabrigo Sock in Light of Love colorway
Yarn Hanging in Background
Dragon Hoard Yarn in Under the Sea colorway
Knitterly Things – Rainbow of the month club  in Misty Mountain Rainbow colorway
Amanda Makes yarn in Beachy Pink colorway
Sugarhouse Woolworks – set of five, not named
PK Yarn in Benny and the Jets colorway
Knitterly Things in Sum-Sum-Summertime colorway
Yarn Cafe Creations in Marche colorway
Podcasts Mentioned
Dyealong Giveaways
Bare yarn – going to LadyAmberSkye
Deborah's hand dyed yarn – oing to Trace44
Get in contact with us as instructed in the podcast
One Year Anniversary Prize Package
Neeley's Knits yarn  in Thing One and Thing Two colorways
IndigoChicken Dr. Suess Project Bag
The Quirky Sculptor stitch markers and progress keeper
Pattern of choice by Lara Smoot Designs
Ridiculous Book of the Day
The Museum of Kitschy Stitches by Stitchy McYarnpants
145 total views, 0 views today






by